Minecraft promises a range of new mobs for the next update and it's your turn to pick which one makes the cut. From new golems to hostile monsters, the choices can be truly limitless. But, which mob will be the winner? Discover everything we know about these mysterious mobs and how to vote in Minecraft Mob Vote in 2023!
Minecraft Live Mob Vote 2023: All Details
You can find everything you need to know about Minecraft Live Mob Vote 2023 in our guide. While the results are still far away, the conversations about the winner are already brewing. So, if you don't want to miss out on the discussion, join our Discord server and discover where the majority leans.
What is Mob Vote in Minecraft Live 2023
The Mob Vote is a sub-event that takes place alongside the annual Minecraft Live event. It allows the community to participate in selecting the mob they want to see added in the next update. During the most recent event, players voted to bring Sniffer in Minecraft 1.20 update. It won with a landslide, garnering over 50% of the total votes.
Winners of Previous Mob Votes
Over the years, the Minecraft community has united to bring a variety of mobs into the game. Here are all the winners that the community chose in earlier Mob Vote events:
When Will Voting Begin
The voting for Minecraft Mob Vote 2023 will begin at 1 PM EDT on Friday, October 13. Then, the players will have a total of 48 hours and fifteen minutes to vote for their favorite mob. The voting poll will then conclude at 1:15 PM EDT on Sunday, October 15.
As you can notice, this closing timing intersects with the timing of the Minecraft Live 2023 event which will reveal the winner of the Mob Vote. To make sure you don't miss the voting period, here are the poll opening timings, as per your timezone:
New York

: 1:00 PM EDT

Los Angeles

: 10:00 AM PDT

India

: 10:30 PM IST

United Kingdom:

6:00 PM BST

France

: 7:00 PM CEST

China

: 1:00 AM CST

(Next Day)
Japan

: 2:00 AM JST

(Next Day)
Australia

: 3:00 AM AEST

(Next Day)
Russia

: 8:00 PM MSK
What Mobs are in Minecraft Mob Vote 2023
Much like last year, the Minecraft Mob Vote 2023 is going to present three unique mobs. While we currently lack details about mobs, the developers have promised to drop hints about the same in the official blog.
To stay informed and up-to-date about their hints, make sure to bookmark our guide. We will be researching, testing, and deciphering the hints to reveal the upcoming mobs. Keep an eye out for the updates!
How to Vote for New Mob in Minecraft Live 2023
In the Minecraft Mob Vote 2023, you have three options for casting your vote:
Minecraft Launcher

: Once the voting begins, your Minecraft launcher will update to show a dedicated section to vote for the next mob.

Official Site

: You can also vote for your mob directly on the official website of Minecraft (

here

). Doing so allows you to participate in the poll using any device.

Bedrock Server

: You can also participate in the Minecraft Mob Vote 2023 through an official server. This official server is similar to all the exciting options on our

Minecraft server list

. You can enjoy mini-games, try mob parkour challenges, and a lot more while casting votes.
Irrespective of the method you choose, each Minecraft account can only vote one time. But, you can change your choice multiple times before the voting ends.
Scavenger Hunt on Voting Server
If you enjoy puzzles, you're in for some extra fun on the voting server. You can find a bunch of miniature versions of popular Minecraft mobs hidden throughout them. These creatures are known as minis and finding them gets you a reward.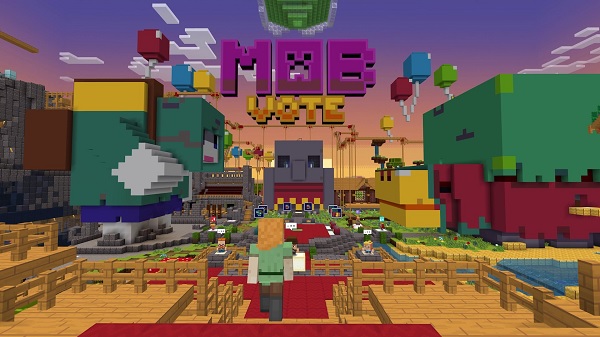 Additionally, the Mob Vote 2023 is set to close on October 15. But, the server will remain open for an extra 24 hours. This extension gives you more than enough time to complete the hunt and enjoy everything there is on the server.
Cast a Vote in Minecraft Live Mob Vote 2023
With that, you are now ready to cast your vote and define the future of Minecraft. But, no need to wait for months to enjoy new mobs in your beloved game. You can use the best Minecraft mods to bring a whole range of creatures into your world instantly. Plus, many best Minecraft servers can let you enjoy them without any downloads. Not to forget, many of the potential features of Minecraft 1.21 are already available. You can try bundles, new villager trades, and even village maps right away. With that said, stay tuned for all the mob vote updates, and don't forget to vote on time!