No good Minecraft update is complete without a new spot to explore and Trails & Tales is no exception. Minecraft 1.20 is bringing a new Cherry Grove biome to the game and it is very we have dreamt of for years. You get a new set of wood, beautiful plants, and a large pink area for your dream house. It is a truly beautiful view that no player should miss. However, even with such greatness, this new biome isn't easy to come across. So, let's find out how to find Cherry Grove in Minecraft 1.20 without wandering aimlessly.
Find Cherry Grove in Minecraft
Please note that this new biome is still only available in Minecraft Preview and Java snapshots as an experimental feature. All its mechanics and textures are subject to changes in the final release.
What is Cherry Grove in Minecraft
The Cherry Grove is the brand new pink mountainous biome of Minecraft that's coming out with the 1.20 Trails & Tails update. As you can imagine, this area is filled with cherry trees and pink petals, likes of which don't spawn in any other Minecraft biomes. All of these features are inspired by the iconic real-world phenomena of cherry blossom.
Thanks to the dense roof of flower leaves and the sparseness of trees, this biome is perfect for a base in the Minecraft survival servers. Moreover, since it is a mountainous biome, you can also get a bunch of emerald ore blocks in no time. These emeralds will come in handy during villager trading.
What Mobs Spawn in This Biome
Before you find the Cherry Grove biome in Minecraft, it's important to know what you can get in this new biome. It is way more than just a pretty spot for your next base.
You can find the following mobs naturally spawning inside this biome:
Bee

Glow Squid

Sheep

Pig

Rabbit

Bat (underground)
Other than these mobs, all the overworld undead mobs including zombies, witches, and Endermen can also spawn in this area at night. Not to forget, if a Pillager outpost generates in this biome you can also find Pillagers wandering around the area. While that might look like an ideal situation, you can use the outpost to easily get an armor trim in Minecraft.
Where Does Cherry Grove Spawn
When it comes to world generation, the Cherry Grove biome generates at elevated spots but not as high as the peaks. So, you can easily find it at the feet of mountains and on hilltops. In terms of world height, you should always be looking above Y=80 to spot the pink biome. Meanwhile, if you are worried about finding these high spots, our list of the best Minecraft mountain seeds might help.
Other Ways to Find Cherry Grove in Minecraft
If natural exploration doesn't go your way, there are a bunch of tricks that can help you reach Cherry Grove within seconds. Let's explore all of them to find the best option for you.
Locate Command
The easiest way to find any biome in Minecraft is with the help of the locate command. Simple type and execute the following command in your chat box to get the coordinates of the nearest Cherry Grove:
/locate biome cherry_grove
Please make sure to turn on the cheats inside your world to use this command without any issues. You will find the option for the same within world settings on the Bedrock edition and LAN settings on Java.
Single Biome World
Another great way to explore Cherry Grove in Minecraft 1.20 is by eliminating the need to search for it altogether. All you have to do is create a world that only has this biome and you'll get everything you need right at spawn. Here's how:
1. First, go to your home page and click on the "Single Player" option.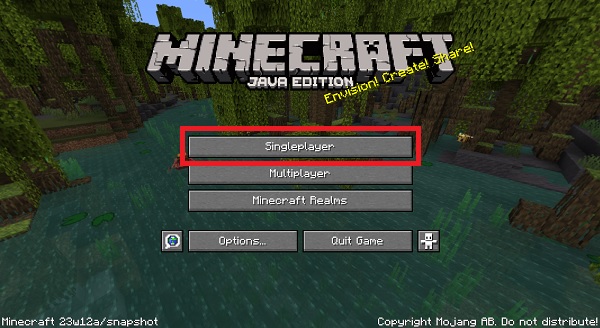 2. Then, click on the "Create New World" button which is located at the bottom of the screen.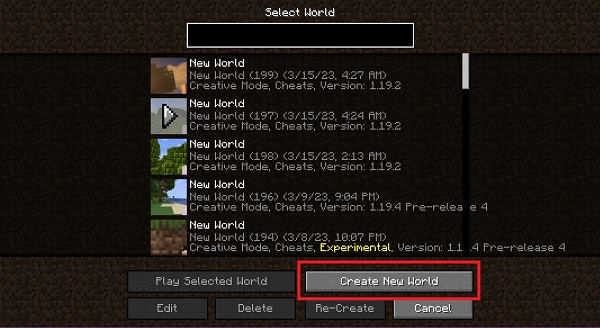 3. Next, go to the world section and set the world type to "Single Biome". Then click on the customize button.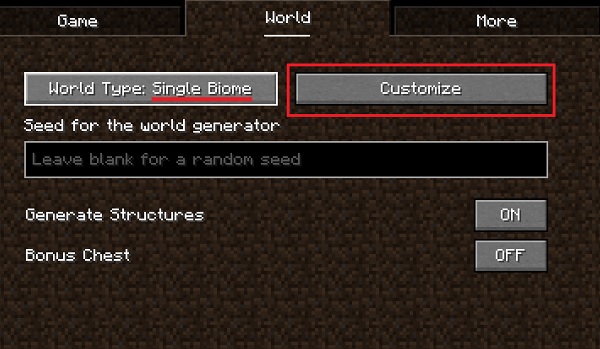 4. In the customization section, find the "Cherry Grove" biome, select it, and then click the "Done" button.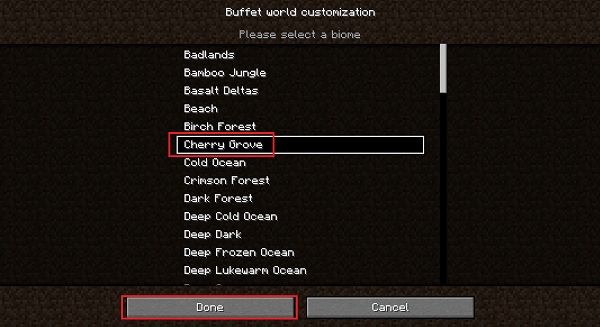 5. Finally, click on the "Create New World" button. You can also set your game mode to creative if you want to have an easier time during exploration.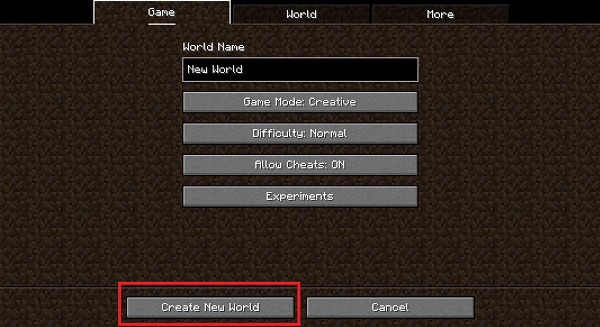 6. In the end, the world you get will only consist of the Cherry Grove biome. Feel free to venture into any direction to witness an endless era of pink trees. And if something doesn't feel up to your taste, you can always use the Bedrock editor to customize your world.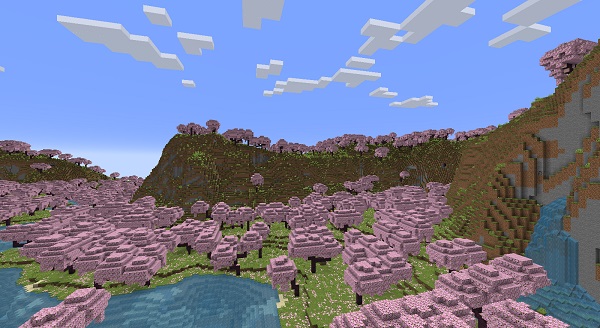 Cherry Grove Seeds in Minecraft
Now that you know how to find Cherry Grove in Minecraft, it's time to ensure that you have the best experience in this biome. However, not every iteration of the new biome might be as good as you expect. Luckily, we already have the best Cherry Grove seeds that you just need to turn into worlds and unlock the best versions of them.
One of the seeds we love the most spawns you inside a plains village which is on the border of this new biome. You can see cherry wood right beside the villager's huts. All you have to do is replace the wood in the existing house and you can get a cherry village in no time. Though, who knows, Minecraft 1.21 update might bring one by default.
Seed:

19642930

Edition:

Java (for village)
Frequently Asked Questions
Do villages spawn inside Cherry Grove biome?
The Cherry grove biome, for now, doesn't have any villages of its own. But at times, meadow and plains villages can spawn on its borders.
What is the cherry biome called in Minecraft?
The cherry blossom biome is known as "Cherry Grove" in Minecraft 1.20 update.
How rare is a Cherry Grove in Minecraft?
While the cherry grove is not common, it is also not that rare if you know where to look.
What biome is Cherry Wood in?
The cherry wood and the pink petals exclusively spawn in the Cherry Grove biome of Minecraft.
What is the temperature in the cherry biome of Minecraft?
The Cherry Grove biome has a moderate temperature of 0.5 points and it spawns temperate (orange) frogs from tadpoles.
Explore the New Cherry Blossom in Minecraft
Just like that, you are now ready to start a new adventure and experience cherry blossom in Minecraft. While this is the only new biome of the next update, you don't have to limit yourself when it comes to blocks. Thanks, to the new bamboo wood, you will be able to make a whole new variety of structures when Minecraft 1.20 comes out. With that said, which is your favorite feature of Cherry Grove in Minecraft? Share your opinion on the Discord server.