The best part of any open-world game out there is that you never know what beautiful landscape might be out there. Minecraft is no exception to the same and its mountains are truly the best-looking features in all its biomes. Even more so if you are using one of the best Minecraft shaders in your game. So, let's welcome some of these heart-warming scenes into our lives with the best Minecraft Mountain seeds you can ever find.
Mountain Seeds for Minecraft 1.19 and 1.20 (2023)
All the seeds on our list work with both Minecraft Java and Bedrock editions. However, the structures and their coordinates might not be the same for both of them.
1. Cherry Blossom Mountain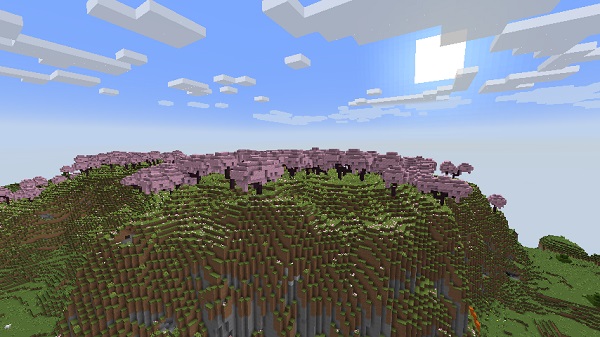 Opening our list with a bang, we have one of the most beautiful mountain seeds for Minecraft to ever exist. It spawns you right on top of a huge Cherry Grove hill which is surrounded by beautiful flowering plains. Everywhere you see there is a different kind of stunning scenery waiting for you.
Though, the Java players don't get to enjoy the beauty right after spawning because of a nearby outpost. But if they can outrun the Pillagers, the seed is only going to get better as they venture further into it. Not to forget, if you are a fan of this new biome, you get a bunch of great options in our list of the best Cherry Grove Minecraft seeds.
Seed:

275529716

Spawn Biome:

Cherry Grove
2. The Himalayas in Minecraft Mountain Seeds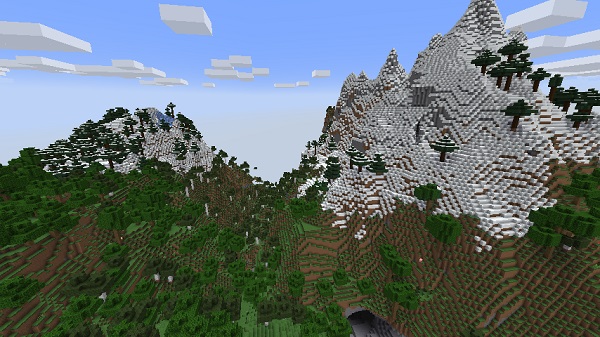 When people think of mountains in the real world, they often imagine forests and rivers leading up to a high peak. But more often than not, Minecraft mountains fail to deliver this realistic imagery in the game. At least, not without this special mountain seed which recreates a perfect mountain range.
You spawn inside a hilly forest. If you go upwards, you will eventually witness a thinner forest and then a snowy peak. Meanwhile, if you venture down, a plains biome and a river is filling up the picture. From afar, all of these elements get together to paint a perfect picture of an ideal mountain. And as a cherry on top, one of the mountains in the range has a beautiful waterfall on its side.
Seed Code:

-860899055

Biomes:

Forest
3. Temperature is Rising
As the name suggests, this is a Minecraft mountain seed that throws you in a spot made up of the hottest biomes of the game. You show up on a massive badlands mountain that is surrounded by a bunch of deserts. This area is perfect for exploring the new archaeological features of the Minecraft 1.20 update.
You can even meet the new camels in no time, thanks to the bunch of desert villages surrounding your spawn. But before you venture afar, make sure to dig into the badlands mountain first. It has a very high spawn rate of gold ores than any other biome in the game. Moreover, the same mountain is also perfect for finding a lot of mineshafts for easy loot.
Seed:

37436

Spawn Biome:

Badlands
4. Shattered Mountainous Minecraft Seed
Welcoming you within a post-apocalyptic spot, this Minecraft mountain seed spawns you in a huge range of shattered hills. There are broken hills, broken terrain, and floating blocks all around you. It is the perfect spot for creating unique bases and exploring interesting cave openings. Many caves in the area are filled with lava and water sources. So, you can easily create a Nether portal in no time.
As for the resources, you spawn in a windswept hills biome which is like a shattered version of the plains biome. So, you can easily get food by killing mobs like cows and sheep in the area. Though, you have to travel to nearby mangrove swamps to get wood for basic items and tools.
Seed:

482490

Spawn Biome:

Windswept Hills
5. Hollow Dripstone Mountain
This Minecraft mountain seed is unique for a bunch of reasons. For starters, it spawns you next to a hollow mountain that is home to a huge exploded dripstone cave. You can simply walk into the cave as soon as you spawn. However, if you get to the top of the mountain, there is a small forest awaiting your arrival.
You can get all your basic resources from the forest. On the Java edition, there is also a ruined portal in it which is just a few obsidian blocks away from becoming your gateway to Nether. Meanwhile, for upgrades, you can rely on the dripstone cave which is loaded with diamond, iron, coal, and emeralds ores. Just make sure to use your first few diamonds to make a diamond sword in Minecraft to deal with the cave's hostile mobs.
Seed:

486881

Spawn Biome:

Dripstone Cave
6. A White World in Minecraft Mountain Seeds
There is no doubt that all the mountains of Minecraft often lead you to beautiful sceneries and cinematic spots. However, if you spawn on top of such mountains, things can get quite tricky. That's what happens in this Minecraft seed which drops into a huge snowy area.
There is a snowy village next to a nearby ravine which is enough to get you a head start. However, before you make it to the village, you will have to deal with steep drops, a bunch of snow traps, and a lack of food. The seed is a perfect mix of a challenging spawn with just enough resources to get you started.
Seed:

487695

Spawn Biome:

Jagged Peaks

Village Coordinates:

61, 71, 172

(Java)
7. The Bad Neighbourhood
Putting all the other challenging Minecraft mountain seeds to shame, this seed puts you in a dangerous spot right after loading up. You will find yourself next to a Pillager Outpost with Pillagers ready to hunt you down. There is no Iron Golem cage around the structure so you are truly on your own.
The only way to avoid the attack is to flee into the open empty terrain or enter a nearby Mineshaft. If you choose the former, the Pillagers are going to follow you and you will have to struggle to find food and basic resources. Meanwhile, if you enter the Mineshaft, you will be greeted by an exposed spider mob spawner. So, wherever you go, your survival is doomed.
Seed:

131215679

(Java)
Spawn Biome:

Eroded Badlands

Exposed Mob Spawner Coordinates:

-20, 69, 6
8. Luckiest Minecraft Mountain Seed
Many players hate spawning in the snowy mountains of Minecraft because this often leads to them struggling for resources. But this seed challenges that notion by giving you a lucky spawn point with everything you might ever need. There is a small but significant snowy village around you that is packed with all the utility blocks you need.
Then, pushing things to a higher level is a complete igloo structure right on your spawn. So, you first have to loot the village to get basic resources. Then, you must cure a zombie villager inside the igloo to unlock cheap trades. Finally, you need to trade with the cartographer villager to get all the best loot you need.
Seed:

237813198

(Java)
Spawn Biome:

Snowy Plains
9. The Flat Grove
Following the new terrain generation of the 1.18 update, flat areas have become a rare occurrence in the game. Though, what if you could get a leveled mountain? As weird as it sounds, this Minecraft mountain seed generates a mostly flat grove mountain. This mountain is perfect for building a base as it looks over a variety of forests around you.
There is even a river at the foot of the mountain which adds a new depth to the overall scenery. But, before you start building your house, make sure to get rid of your neighboring villagers. Not to forget, the iconic mountain in this biome is quite steep. So, make sure to create a Potion of Slow Falling to avoid dropping to your death.
Seed:

261382193

Spawn Biome:

Grove

Pillager Outpost Coordinates:

32, 128, 82

(Java)
10. Mountain Survival Island with Village
No list of good Minecraft seeds can be complete without a survival island and our mountain seeds are no exception. But, we are quite sure that you will never see another survival island like this ever again. It spawns you on top of a tall savanna mountain surrounded by the vast ocean.
Looking down from the tall mountain allows you to witness a beautiful view from all sides. Except, on one side there is a large floating savanna village at the bottom of the mountain. This village has all the resources and villagers you will need. Though, getting to it isn't going to be easy. You not only have to deal with the risk of falling but also the hostile mobs in the multiple caves on the side of the mountain.
Seed:

-6537256334104833826

Spawn Biome:

Savanna

Village Coordinates:

145, 63, 157

(Java)
11. A Panoramic Spawn
Bringing back the good old days of Minecraft, this seed spawns you in a large Old Growth Pine Taiga biome. It is a rare biome that spawns a bunch of tall trees in a hilly terrain generation. Everywhere you see, the world will offer you tall pine-like trees and hills merging into mountains.
There is also a river surrounding all the hills and uplifting the overall scenery. The only thing that's missing is a hint of snow. But if you start exploring, you will soon discover a large snowy variant of the same biome not too far from spawn. So, if you want a realistic-mountainous world within a beautiful panorama, this is the seed for you.
Seed:

8047

Spawn Biome:

Old Growth Pine Taiga
12. The Ice Age in Minecraft Mountain Seeds
Last but not the least, we have a mountain seed for Minecraft which most of you aren't going to survive. As its name suggests, you have to deal with a large snowy world with no structures, no trees, and certainly no source of food. There are a bunch of cave openings for you to get some ores.
But you will still be unable to find wood to mine any of them. Not to forget, you also have to be careful about where you walk. If you accidentally step into a pit of snow, it won't be easy to get out. Moreover, even if you somehow survive the harsh climate, the goats in the area are still going to try and push you off the cliff.
Seed:

71999

Spawn Biome:

Snowy Slopes
Explore the Minecraft Mountain Seeds on Java and Bedrock
Now that you have all these amazing mountain seeds for Minecraft in your hand, it's time to scale the highest peaks in the game. Climbing the mountains of the game is a great way to practice for the best Minecraft parkour servers. Though, reaching the top is only worth it if you can see most of your world from the spot. Even at a high render distance, this might not be a doable task for all the systems out there. So, make sure to install OptiFine in Minecraft to unlock additional performance in your game. With that said, do you have any good-looking Minecraft seeds? Make sure to share them on our Discord server!