At the core, the worlds of Minecraft and Pokemon are quite similar. You start in a mysterious land and travel all around it while encountering strange creatures. Some of them, like the Sniffer, give you amazing loot while others try to fight you. So, naturally, it makes sense to bring Minecraft and Pokemon together to unlock a great experience and for years, Pixelmon has done the job. But now, there is a new player in the town and it's about to change everything. Yes, we are talking about Cobblemon, a brand-new Pokemon mod for Minecraft. But, what exactly is Minecraft Cobblemon? How you can get it? And most importantly, is this mod better than Pixelmon? Let's find out!
Minecraft Cobblemon
Our guide covers all the basics of Cobblemon for Minecraft from its mechanics to installation in separate sections. Feel free to explore each of the sections at your convenience.
What is Minecraft Cobblemon
Cobblemon is a new open-source mod that brings a bunch of amazing mechanics from the classic Pokemon games to Minecraft. But unlike other mods, it doesn't only use the world of Minecraft as a background for the Pokemon features. Instead, Cobblemon integrates all the new Pokemon mechanics into the vanilla experience.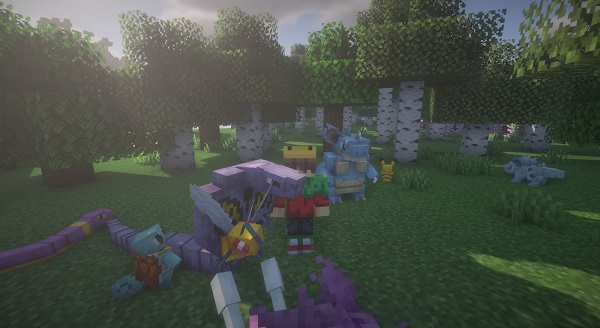 Every single item and Pokemon looks like it belongs in the default world of Minecraft and carries its iconic blocky look. Even Poke balls leave their curves behind to adopt a cubic form. Furthermore, the existing biomes of Minecraft also modify themselves to integrate the elements of this modpack. Because of this, some Pokemon and items spawn exclusively in certain locations which creates a whole new Minecraft quest to explore and catch 'em all.
Taking a step away from the gameplay, Minecraft Cobblemon also stands out in terms of how it is designed. Being an open-source project, it is open for the community to edit, develop and improve. So, even though it still might be in an early stage, the future of Cobblestone is filled with amazing adventures.
Features of Cobblemon
The Cobblemon mod for Minecraft has the following main features:
All generation 1 Pokemon alongside some from newer generations in Minecraft's blocky design

Toggle free-movement during battles that allow you to explore the world while your Pokemon fights

Pokemon capturing, training, and fighting mechanics

Unique battle mechanics similar to Pokémon Legends: Arceus

Pokemon animation and world interaction

Biome-based items and various Pokemon species

Dozens of distinct types of Poke balls, evolution stones, and other items

Support for custom Pokemon via resource packs

Built-in compatibility for both Fabric and Forge
Other than these, team Cobblemon is working on a bunch of additional features that will release in the upcoming months. They include NPCs, riding Pokémon, breeding, and structures.
Custom Pokemon in Cobblemon
There are a bunch of amazing features that help Cobblemon stand out among all the other best Minecraft modpacks. But what makes it truly special is the ability to bring custom Pokemon to the game. All you have to do is model your character with the help of BlockBench and import it into the modpack. Cobblemon will take care of the rest.
Moreover, since this modpack is open source, you can use its base mechanics to create your variants of the same. This opens up a whole lot of possibilities for the future of Minecraft. Who knows, someone might use Cobblemon to bring Digimon to the game. All that's stopping you is your imagination.
Cobblemon vs Pixelmon: Which is Better
On the surface, both Pixelmon and Cobblemon offer a great Minecraft X Pokemon experience. But the way they implement is quite contrasting. So, let's explore the differences between the two to find out which is the right pick for you:
Version:

Pixelmon runs on Minecraft 1.16.5 and doesn't have plans for any upgrades. However, Cobblemon runs on 1.19.2 and it might even get updated to Minecraft 1.20.

Number of Pokemon:

While Pixelmon has over 800 Pokemon, Cobblemon only has close to 200 creatures, most of which are from Gen 1. But, do keep in mind that the latter is quite new and will get more Pokemon in near future.

Character Design:

Pokemon in Pixelmon look like creatures from a regular 3D game but Cobblemon follows the blocky style of Minecraft.

Structures:

Only Pixelmon has unique structures inspired by the original Pokemon games.

Compatibility:

Pixelmon, as a modpack, offers a complete experience in itself. Meanwhile, Cobblemon is open to interaction with other mods to improve the gameplay.

Movement & Battles:

Cobblemon introduces free movement during battles alongside mechanics for relearning and running from battle.

Evolutions:

Pixelmon has a high-level evolution system consisting of breeding and mega evolutions.

Community:

Because it has been years since the initial release of Pixelmon, it has a larger community and more extensive resources than Cobblemon.
With that, it must be clear that if you want a more true Minecraft experience of Pokemon then Cobblemon is the obvious choice. Meanwhile, Pixelmon is perfect for players who want an advanced 3D experience.
How Do I Download Minecraft Cobblemon
Now that you are aware of the basics of Minecraft Cobblemon, it's time to get in on the action. So, let's figure out how to get this mod up and running.
Minimum Requirements to Run Cobblemon
If you can run Minecraft on your system, it is more than capable of running the game with the Cobblemon mod installed on it. However, to make the most out of this Pokemon experience, we suggest you get at least the following specifications:
OS:

Windows 7 or later, macOS 10.12 Sierra or later, or Linux

Processor:

Intel Core i3 or later

Memory:

3GB RAM or more

Graphics Card:

NVIDIA GeForce 400 Series or stronger
Items Required to Run Cobblemon
Before you can run the Cobblemon mod in Minecraft, you need to download and install the following elements:
Forge

: A mod engine and manager which can run multiple Minecraft mods at once. You can also use the Fabric mod engine instead.

Kotlin

: A set of libraries that allow Minecraft to run mods coded in Kotlin language.

Architectury

: An API that makes it possible to create multi-platform mods that work on both Fabric and Forge.
You can run the Forge install to automatically install it in your Minecraft directory. Meanwhile, you have to manually place the Kotlin and Architecture files in your mods folder to install them. The "mods" folder can be found in the following locations:
Windows:

%appdata%/.minecraft/mods/

Mac OS:

~/Library/Application Support/minecraft/mods/

Linux:

~/.minecraft/mods/
Install Minecraft Cobblemon
Follow these steps to easily download and install Cobblemon in Minecraft:
1. First, go to the official website of Cobblemon (here) and then click on the "download" button on the home page.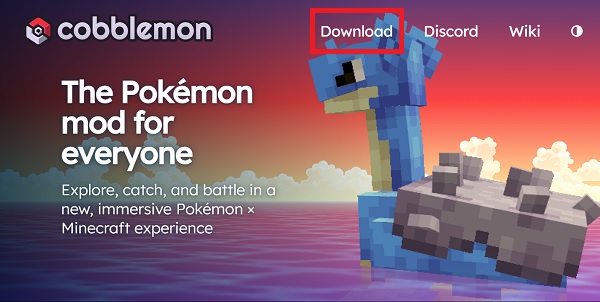 2. Next, go to the "versions" tab and click on the download icon next to the latest version of Cobblemon for Forge. You will end up with a ".jar" Java file.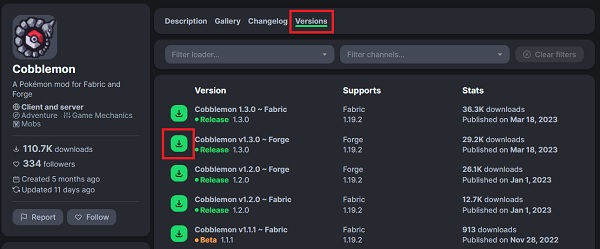 3. Then, place the Cobblemon mob file in the "mods" folder of your Minecraft directory.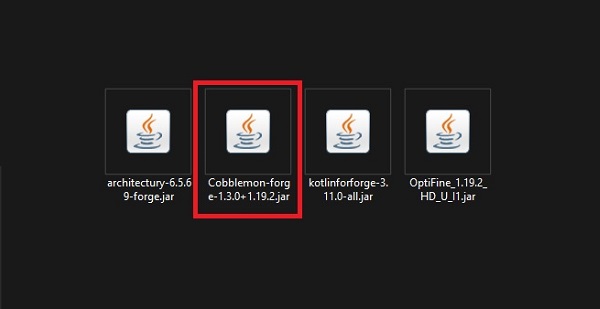 4. Finally, launch the Forge installation of Minecraft in your Minecraft Launcher to run Cobblemon mod.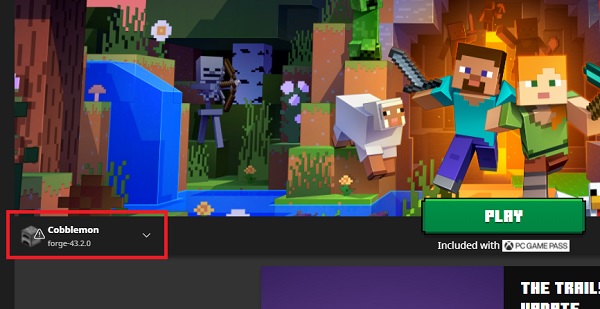 How do I Play Cobblemon
The world of Cobblemon in Minecraft might feel a bit overwhelming when you first load into it. But if you know the basics, things are going to be a lot simpler.
Starter Pokemon
Minecraft Cobblemon can be a complete experience unless you get your first Pokemon right off the bat. So, follow these steps to obtain your favorite starter:
1. First, press the "M" key to open up the "Starter Selection" window. Next, use the left-side menu to select any region to see its starter Pokemon options.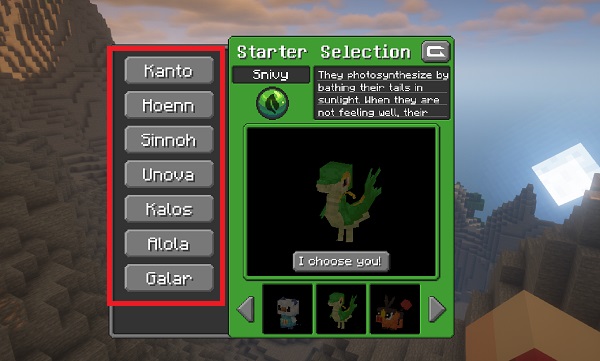 2. Then, use the arrow keys to navigate through your options and click on the "I Choose You" button to get your first Pokemon in Cobblemon.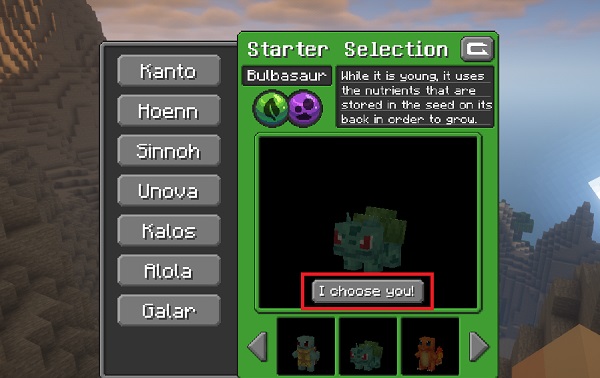 3. Your selected Pokemon will show up on the left side of your screen and you can press the "R" key to spawn it.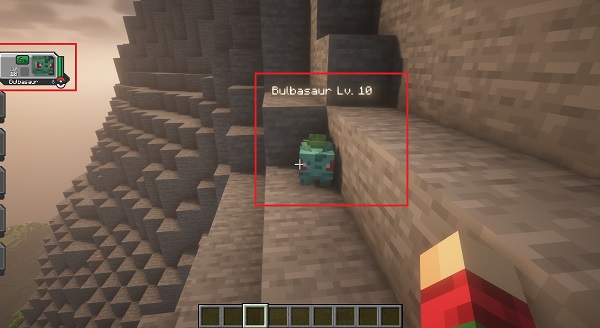 Capturing a Pokemon
Now that you have your first Pokemon, let's figure out how to catch more and get your adventures started:
1. First, find an Apricorn tree in the overworld. Then right-click on the Apricorns to collect them. The color of the Apricorn determines the type of Poke ball you are going to get.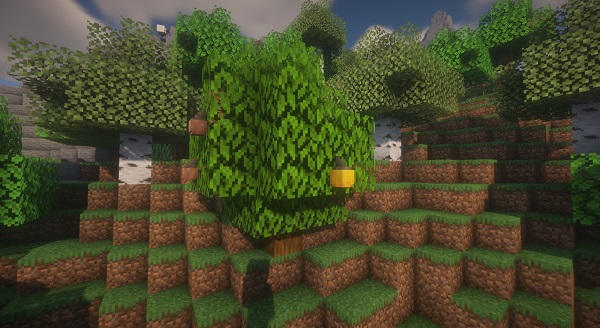 2. Then, it's time to put your Minecraft skills to use and collect a copper ingot. You will first have to mine copper ore which spawns between −16 to 112 world height and then smelt raw copper inside a furnace.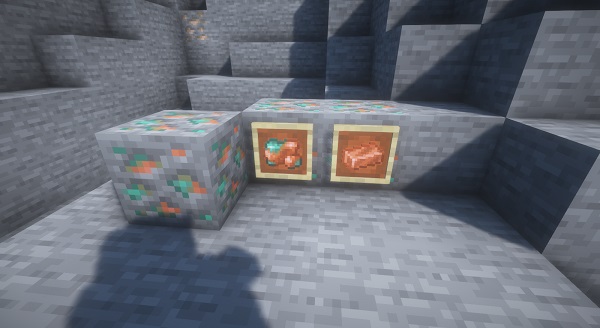 3. Combine the collected Apricorns with the copper ingot on a crafting table to create your first Poke ball. You need four Apricorns of the same color to create one Poke ball.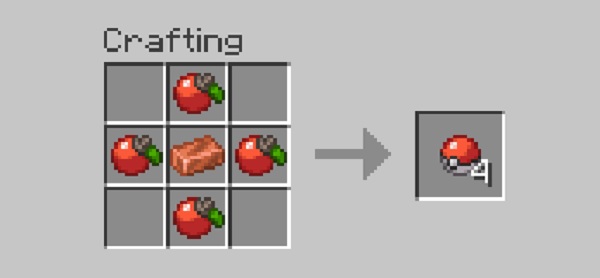 4. Next, explore the different Minecraft biomes until you stumble upon a Pokemon. Then, right-click and throw your Pokeball on the Pokemon to capture it. Though, you might have to fight a Pokemon and weaken it first to capture it.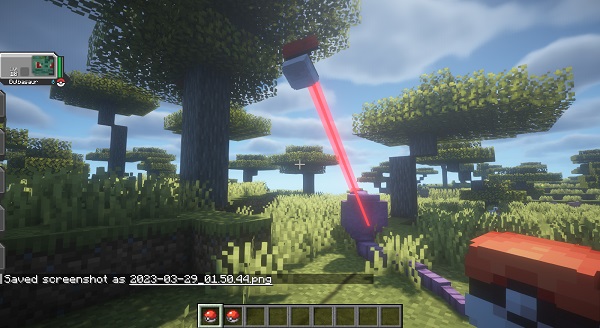 How to Fight Pokemon in Cobblemon
Character battles are an essential mechanic of all Pokemon games and Cobblemon in Minecraft is no exception. So, here's how to start and win your first fight in Cobblemon:
1. First, go around your Minecraft world and find a suitable Pokemon to fight. In the beginning, it's best to target Pokemon who are at a level lower than 30.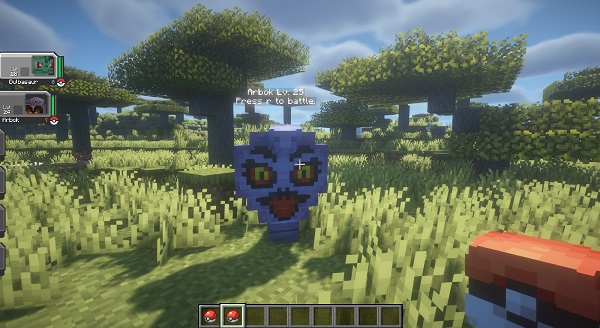 2. Then, get close to the Pokemon and while looking at it, press the "R" key. The game will open up a pop-up menu. Then, click on the "Fight" button to start your battle.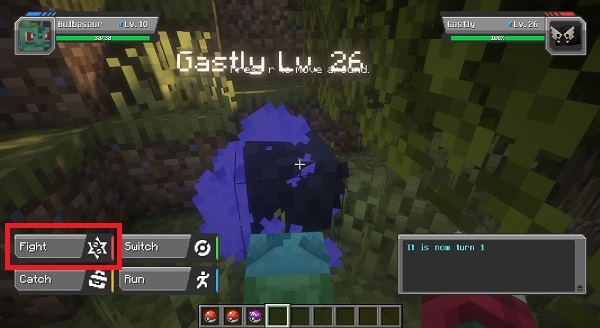 3. Alternatively, you can click on the "switch" button to change the Pokemon you want to send in the battle.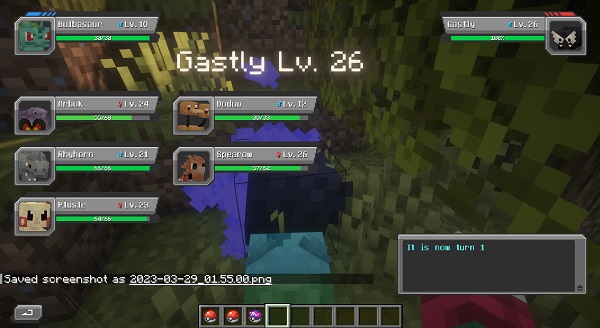 4. Once the battle begins, you can use any of the available attacks by clicking on their buttons. Cobblemon will give you all the updates in the fight within a small text window on the right side.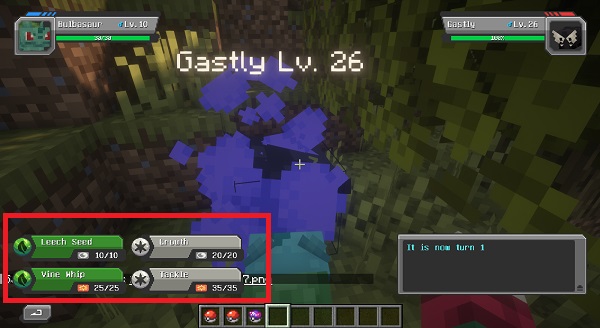 5. If your Pokemon faints during the battle, Cobblemon will allow you to switch to another Pokemon and continue the fight. The battle ends when your target or all of your Pokemon faint.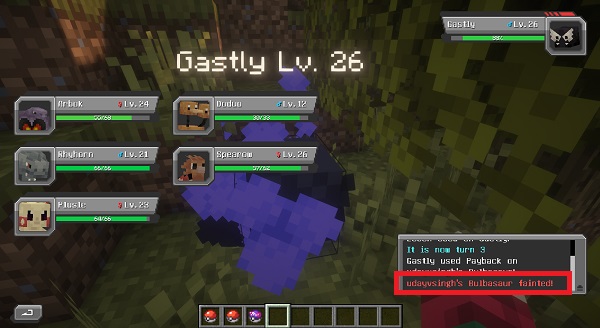 FAQ: Minecraft Cobblemon
How long does it take for a Pokemon to recover in Cobblemon?
It usually takes around 15-20 minutes in real time for a Cobblemon Pokemon to recover in Minecraft. However, you can use a healer to speed up the process.
Is Minecraft Cobblemon free?
Minecraft Cobblemon is completely free to download and use.
How many Pokemon can you have at once?
Cobblemon allows you to have a maximum of 6 Pokemon in your inventory. All your other Pokemon get stored inside a PC which you can use to exchange your characters.
How do you harvest Apricorns in Cobblemon?
You have to use an axe on a fully grown Apricon to harvest it. If you break it before the Apricon is fully grown, it will disappear completely. Meanwhile, if you can't find an axe, you can also break the entire tree to get Apricon. Though, you might have a hard time finding another tree.
Download and Play Minecraft Cobblemon Today
Whether you are playing Cobblemon, Pixelmon, or the classic Pokemon games, the experience isn't complete without having players to challenge. So, don't forget to check out the best Minecraft Cobblemon servers to get a complete experience with this new mod. Moreover, while we are talking about improved gameplay, you should also install the best Minecraft shaders to add a level of realism to Cobblemon. On the other hand, if your system is struggling while handling Pokemon, you should get OptiFine for Minecraft to unlock a performance boost. With that said, it's time for you to jump into Minecraft and catch them all!