Even with a bunch of updates over the years, the world of Minecraft hasn't changed much in terms of the core gameplay. Moreover, its new features, more often than not, don't impact how you play the game. But what if you could change everything you know about Minecraft with just a single update? That's exactly what you get with the best Minecraft modpacks. These are powerful add-ons that unlock a ton of features, hundreds of mobs, and a whole set of biomes in the game. There is so much to cover. So, let's stop beating around the bush and jump right in!
Best Minecraft Modpacks
We are first going over what Minecraft modpacks are and how you can use them. But, if already know their basics, please feel free to skip to the main list.
What is a Minecraft Modpack
A Minecraft modpack is a collection of various mods working together to give you a better gameplay experience. Unlike a mod which only affects one aspect of the game, modpacks end up changing almost everything in Minecraft including mobs, biomes, and more.
More often than not, each modpacks only consists of mods that are following a similar or connected theme. So, even though they're from different developers, all the mods in one Minecraft modpack feel like members of the same family. If you are new to the world of modding, we suggest you first try some of the best Minecraft mods before venturing into modpacks.
How to Run Minecraft Modpacks
Much like mods, you need a mod engine to run Minecraft modpacks as well. So, first, download and install Forge for Minecraft before getting any modpack. It is a third-party tool that helps Minecraft run and handle multiple mods without compromising performance. While you can install and run several mods and modpacks without Forge, it's a must-have for all the options on our list.
Best Minecraft Modpacks for 2023
1. All the Mods
Don't let its name confuse you. Since Minecraft gets hundreds of new mobs each day, it's impossible to pack them in a single modpack. But ATM8 has most of the good ones. It is an ambitious project that tries to put as many mods as possible inside a single modpack without making the game crash.
So, chances are, you can find almost all mods from the rest of the best Minecraft modpacks inside ATM8. However, this is also a drawback of this powerful project. Having so many mods in a single modpack eliminates the chance of creating a themed gameplay experience. But if you want to explore a surprisingly and sometimes, chaotic version of Minecraft then this modpack is for you.
2. Valhelsia
Valhelsia is a unique Minecraft modpack that offers some of the most iconic classic mods along with the popular new ones. So, you end up with a perfect experience that caters to all types of Minecrafters.
The builders and engineers get a diverse set of blocks to build with. Meanwhile, adventures get to explore a world made up of unique structures and dangerous mobs. From new overworld biomes to secret underground caves, there is something for everyone. You just have to find what fits your style in Valhelsia.
3. RL Craft
RL Craft or Real Life Craft is one of the most dangerous Minecraft modpacks out there. It implements a bunch of new mechanics in the game that aims to replicate real-world mechanics but end up limiting you. For example, you have to take care of thirst, temperature changes, and even your sleeping location.
Moreover, alongside the realistic weaknesses, there are hostile mobs and a challenging world for you to explore. You end up in a world that requires you to take extra care of yourself while its mobs try to kill you. But, if you somehow survive RL Craft, there are over 340 side quests to keep you occupied for days.
4. Sevtech Ages
This Minecraft modpack fixes the everlasting issue of players running out of stuff to do in the game. It adds a bunch of new mechanics to the game including new ores, hidden items, and even new mobs. But the best part is that all of them only appear as you make progress in the game. So, instead of a completely open world, you get a progress-based sandbox game.
The modpacks separate these progressions in the form of "ages". Much like how the industrial age changed the real world, the new ages of the modpack offer a new Minecraft experience as you progress. From the stone age to space, there are thousands of items, blocks, and mobs for you to unlock. But will you be able to unlock them all? Only one way to find out.
5. FTB Revelation
Feed The Beast team is behind a bunch of great Minecraft projects and FTB Revelation is a prime example of their talent. It is a massive modpack with over 200 mods in it. The best part is that all of these mods are carefully chosen to keep your performance intact. As for the main theme, this modpack gives you an improved Minecraft with better recipes, diverse items, and a robust Redstone system.
So, whether you plan on building or exploring, there will always be a ton of technologies and magic to help you out. But, with more resources, there will be more challenges as well. Make sure to keep an eye out for the new bosses while exploring the darker biomes. Though, you can invite your friends to one of the best FTB Minecraft servers to make the world a bit safer.
6. InsaneCraft Modpack
This Minecraft modpack, as the name suggests, is insane in terms of the machines and structures you can build. But that's just the surface of its game-changing mechanics. With over 250 powerful mods, this modpack creates some truly unexpected worlds which include new dimensions, large mobs, and even superpowers.
Furthermore, everything you do in InsaneCraft's world must lead you toward one of the 6 infinity stones. With a direct not to the Marvel comics and MCU, InsaneCraft wants you to take over the world becoming Thanos. But the journey isn't as simple as defeating the Ender Dragon. So, are you up for the challenge? Get the modpack and find out!
7. Crazy Craft
If you like experiencing surprises in life and don't mind random chaos then Crazy Craft is going to be your favorite Minecraft mod. It has 100s of hours worth of content and every single piece of it is a different kind of fun. There are 100+ biomes, 500+ mobs, and 300+ structures spread across 8 unique dimensions of Minecraft.
Even after playing this modpack for months, many players end up discovering new stuff every single day. The only drawback is that you need a strong system to make the most out of this modpack. While Crazy Craft tries to maintain performance, it is the most fun on a system that can handle its wildness.
8. Pixelmon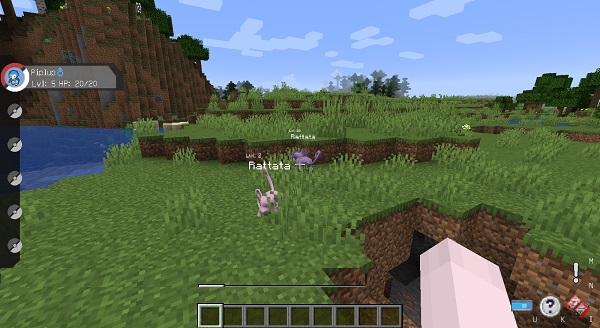 Ever imagined defeating the Ender Dragon with a Charizard? Now you can make it happen. Unless you are new to the Minecraft community you must be already familiar with Pixelmon. This game-changing modpack brings the world of Pokemon to Minecraft complete with all its creatures, structures, and even fighting mechanics.
Even if you are not a fan of the Pokemon franchise, this modpack is still worth your time thanks to the controllable supernatural mobs. But, do keep in mind that the world of Pokemon is only fun if you are other players in it. So, before getting the modpack, we suggest you try it on one of the best Pixelmon servers for a memorable experience.
9. Enigmatica
With a great focus on storytelling, Enigmatica is a simple yet powerful quest-based Minecraft modpack. It offers a world that's made up of dozens of biomes leading to over 800 quests. On one side, there are monsters, traders, and even some new friends for you to meet.
Meanwhile, on the other hand, you get powerfully customizable blocks to create bridges, castles, and everything in between. If you are a fan of storytelling and enjoy playing on the Minecraft roleplay servers then Enigmatica is right up your alley. It is also perfect for players that are looking for new stories that play out in the world of Minecraft.
10. Vault Hunters Modpack for Minecraft
Vault Hunters is an RPG-style modpack for Minecraft which completely changes the way you experience the game. It makes you explore a brand new dimension by the name of The Vault where a ton of mysteries and dangers await you. There, you have to trade with collect currency, defeat bosses, and trade with other creatures to survive.
Your main mission is to collect 25 unique artifacts and uncover the story of The Vault. But before getting there you must upgrade your skills, develop talents and craft a bunch of powerful weapons. No one knows what the last chamber of the vault might be hiding. All you can do is be ready to take it down.
11. Better Minecraft Modpack
Our chances of getting a sequel to Minecraft are quite low. But Better Minecraft Modpack gives us a fair estimate of what it might be like. Its world is made up of 4 new dimensions with dozens of new mobs and biomes.
The best part is that all the new stuff that Better Minecraft brings to Minecraft feels like it belongs in the game. This even applies to all the new bosses that you get to fight. Furthermore, there are also a ton of quality-of-life changes including a backpack that even the current version of Minecraft can learn from.
12. Medieval MC Modpack
To perfectly sum out the wildness of the best Minecraft modpacks, we have Medieval MC. With a big focus on magic, this is easily the best and most powerful medieval adventure modpack for Minecraft. There are tons of bosses and mini-bosses for you to fight. But since each one of them has distinct powers and weaknesses, you also have to obtain unique weapons.
From an open-world perspective, the modpack brings new civilizations and colonies to the game. You get to choose if you want to conquer or befriend them. So, you can either try to finish up all the amazing quests or you can start your kingdom. The only thing you won't experience here is getting bored.
Explore All the Top Minecraft Modpacks Today
With that, it's time for you to enter completely new variants of Minecraft and explore all the features that each one of them has to offer. But, before you do, make sure to install OptiFine in Minecraft. It is a visual and performance mod for Minecraft that will help your game handle multiple mods at the same time. Moreover, you can also use the same OptiFine mod to run shaders in Minecraft and heavily upgrade its graphics. Having said that, do you know any other great Minecraft modpack? Don't forget to drop it in our Discord server.