Minecraft Bedrock edition is one of the very few games out there which aren't bound to one platform. It works on almost every device and promises constant gameplay. However, when graphics are concerned, Minecraft Java often takes the lead. This is possible, thanks to the mods like OptiFine and the various popular Minecraft shaders. But now, it's time to balance the scales. We are here with some of the best Minecraft Bedrock shaders which take the game's visuals to a truly unprecedented scale. Some use ray tracing while others rely on smart tricks. But all of them offer promising results. With that, let's dive in!
Minecraft Bedrock Shaders
Unlike Minecraft Java, the Bedrock edition doesn't support custom shader mods from the get-go. Instead, you have to use high-quality texture packs that act like shaders thanks to Minecraft Bedrock's built-in light system. They are best used on Windows systems with a ray-tracing-enabled graphics card. But, you can use them on consoles, Android and iOS to get better visuals and realistic graphics.
How to Download & Install Minecraft Bedrock Shaders
Follow these steps to install the Minecraft Bedrock shaders in no time:
1. First, download your favorite shaders as an "MCPACK" file. It is the default file that stores all the custom resources for Minecraft. All the download links in our guide will lead you to one.
2. Then, find the downloaded file within your system's file explorer app.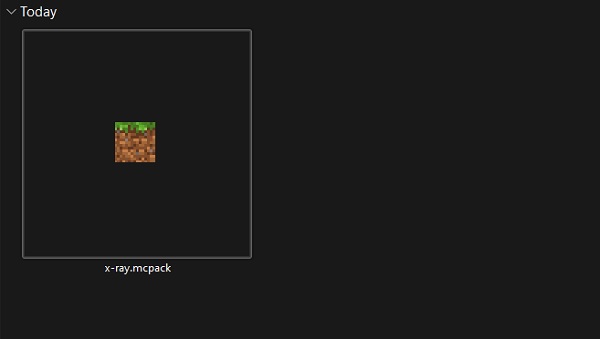 3. Finally, use the "Open With" option to launch the downloaded file in Minecraft. On Windows, you can simply double-click on the file to open it within Minecraft.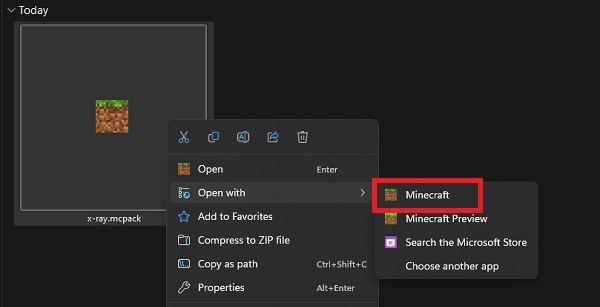 Best Minecraft Bedrock Shaders You Must Get in 2023
1. SERP Shaders
Unlike its peers, Minecraft Bedrock edition for mobile devices is known for its optimization and amazing performance. But, more often than not, this performance comes at the cost of graphics. Moreover, many older devices can't even push it high enough to get welcoming gameplay. But, SERP Bedrock shaders can fix that.
Made exclusively for mobile devices, these shaders give you high-end graphics without overheating your phone or tablet. Its set of features includes vibrant colors, clear animated water, a gorgeous sky, and beautiful shadows. Overall, you end up with a more colorful and welcoming Minecraft experience.
2. Legendary Bedrock RTX
If there is one set of Minecraft Bedrock shaders that truly utilizes the power of ray-tracing that's Legendary Bedrock RTX. It gives you the best-looking gameplay experience that even the best Minecraft Java shaders can't compete with. You get realistic shadows, lighting, and even surface interaction.
With these shaders, every block gets a texture that's similar to its real-world counterpart. For example, metallic blocks have a smooth reflective surface but the stone is more crude and rough. Furthermore, this shaders resource pack also comes packed with HD textures. So, almost every block and item also look far more realistic. The only downside here is that you need a powerful system and an RTX graphics card to make the most out of these shaders.
3. X-Ray+
X-Ray+ shaders and resource packs are one of the biggest game changes for players, especially on the best Minecraft survival servers. At least if the server allows you to use them. As the name suggests, X-Ray+ shaders allow you to turn useless blocks transparent to easily find ores, items, and any desired blocks.
This can completely turn the tables while you are hunting for diamonds or even Netherite. Moreover, thanks to Bedrock's RTX support, these same shaders also add a realistic glow to important items. With that, you can outline all the important blocks and spot them easily.
4. Waving Leaves and Water
As you can guess by the name, these Minecraft Bedrock shaders simply add subtle animation to the plantation and water. While it might seem like nothing at first, it's a major quality of life change. You might start appreciating it as you explore more Minecraft biomes, especially the vibrant ones including Cherry Grove.
The dynamic animations in fluid blocks ensure that you step into a Minecraft world that is not rigid. Instead, you get a world that's inviting, fresh, and still easy on your performance. There are the perfect shaders for anyone looking for basic vanilla upgrades.
5. Kamii Shaders
Kamii shaderpack is one of the most powerful Minecraft Bedrock shaders of all time. At its best settings, you get true tone coloring, life-like light interaction, and accurate shadows. When combined, these features can truly level up the visuals of your game. But they also require the resources to do so.
However, if you don't have a strong device to run Kamii Shaders, they do give you the option to level down. So, you can tune your settings to get a world that looks and also runs well for you.
6. Capricorn PE Shaders
Capricorn PE Shaders' only aim is to provide you with a realistic world and they do it quite well. The most iconic and unique features you get are realistic water and fluid physics. Meanwhile, all the light sources in Minecraft get beautiful and more accurate light interactions. Your world becomes a place where blocks and items visually interact with each.
However, it also has its downside to it. Because of the realistic light interaction, the cave exploration and Nether become quite dark and scary. So, you have to carefully plan your excavations and rely on more light sources than usual. As for the performance, Capricorn has multiple variants of the shaders and you can choose the one that your device can handle well.
7. FullBright
Cementing the victory of light over darkness, FullBright shaders tries to give you a world with no dark spots. In it, nights and days are alike and your caves are as bright as the daytime overworld. As a concept, it is similar to having a constant night-vision effect. But practically, it is much more convenient and brighter.
You can easily explore caves without worrying about having enough torches or missing an ore. Moreover, at night, the hostile mobs will still spawn but you can easily notice and fight them off. You can also use these Bedrock shaders on the Minecraft PvP servers to get an additional advantage.
FAQ: Bedrock Shaders
What is RenderDragon?
RenderDragon is a new rendering engine for Minecraft Bedrock which was supposed to improve performance and add RTX support to the game. But it surprisingly restricted several devices from using shaders. So, many powerful Bedrock shaders require you to downgrade your Minecraft below 1.16.200 to get the most out of them.
Do I need OptiFine for Bedrock Shaders?
OptiFine is a powerful Minecraft mod that allows you to unlock unprecedented visuals and performance on the Java edition. However, you don't have to install OptiFine to run shaders on the Java edition.
Minecraft Bedrock and RenderDragon Shaders Today
Whether you are a fan of playing Minecraft on your PC or your phone, now you have unlocked the peak of its graphics. But when it comes to gameplay, graphics aren't everything. So, if you want to truly experience the best this game can offer, we suggest you explore the best Bedrock Minecraft servers. They combine Bedrock's performance with some powerful add-ons to give you the ultimate Minecraft experience. Meanwhile, these Bedrock shaders will ensure that your game looks its best.