At this point, Minecraft's iconic pixelated and blocky look has etched itself on the players' minds. But that doesn't mean that the vanilla MInecraft is the only way to experience the game. We have collected some of the best Minecraft texture packs that completely overhaul how the game looks and feels. Some make it appear realistic while others unlock a uniquely themed design. There is something to fit everyone's taste. So, with no time to waste, let's dive in and find the best Minecraft texture pack for you.
Minecraft Texture Packs (2023)
Texture packs, also known as resource packs in newer versions, are essentially Minecraft mods that change the visuals of the game. Our guide covers the best options for Minecraft texture packs in various categories.
How to Install Texture Packs in Minecraft
Follow these steps to easily install texture packs in Minecraft:
1. First, open Minecraft and click on the "Options" button on the home screen.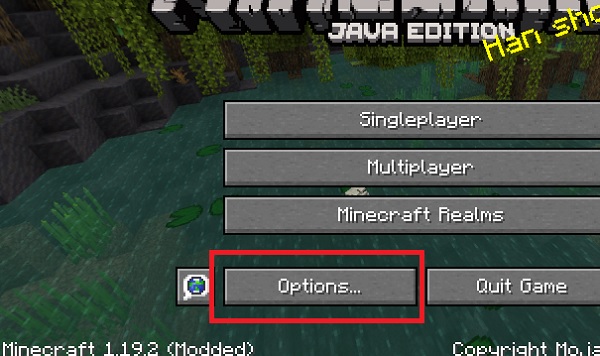 2. Then, click on the "Video Settings" button to open them.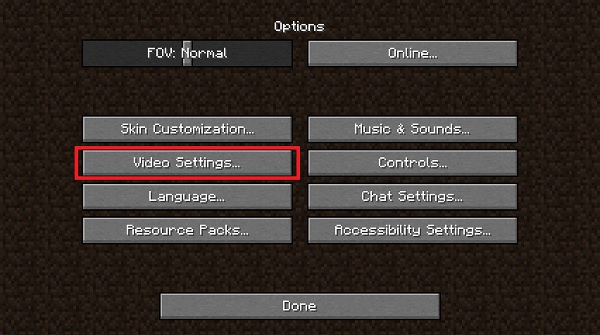 3. Finally, click on the "Resource Packs" button to open the resource pack section. This is where all your Minecraft texture/resource packs are saved.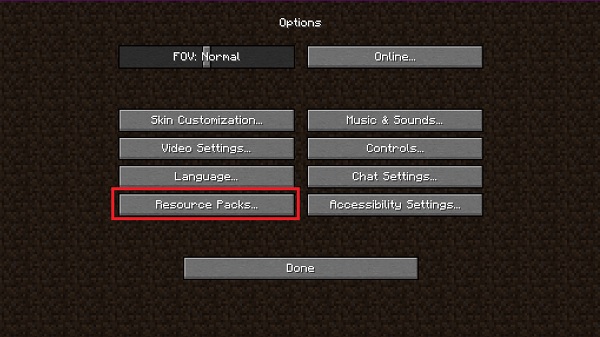 4. Now, to install a new texture pack, click on the "Open Pack Folder" button and then move your downloaded texture pack to that folder. Before doing so, make sure the file you are moving is in archived zip format.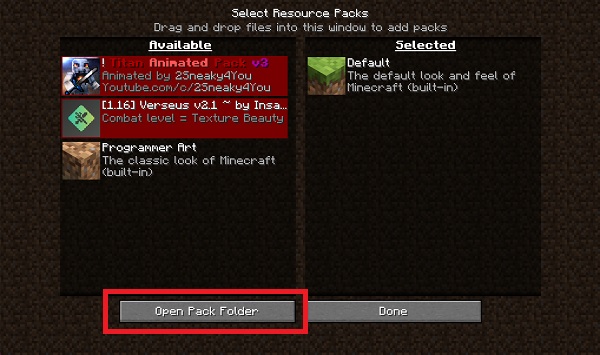 Note: On the Bedrock edition, you can either get the texture packs from the Minecraft Marketplace or install them by opening the "mcpack" files in Minecraft.
Realistic Minecraft Texture packs
These Minecraft texture packs improve the resolution, details, and overall quality of the game's texture. When paired with the best Minecraft shaders, they can unlock a high-definition Minecraft experience.
1. Clarity | Pixel Perfection
To give our list a simple yet powerful opening, we have Clarity. It is a simple and lightweight resource pack that upgrades the basic textures of Minecraft to a much higher resolution. You get cleaner highly detailed blocks that fit right within the vanilla experience.
Natural elements like structures, terrain, and even plants get a more realistic look but none of them break the blocky restrictions. Though, the highly detailed mob faces might surprise you now and then.
2. NAPP
NAPP is one of the heaviest and most realistic Minecraft texture packs of all time. It has a variety of resolutions and the higher ones make you download GBs of data. Most of the GPUs might not even be able to handle the best edition of this texture pack. But the ones who can are in for a major treat. It features highly detailed block textures with zero pixelation.
Furthermore, the texture pack also separates blocks as per their core material. This results in rougher natural blocks, smoother building blocks, and reflective metals. All of these features are best experienced with the BSL shaders. Though, even without that NAPP isn't going to disappoint you.
3. Depixel Resource Pack
At first glance, the world, even with this Minecraft texture pack doesn't look too different from the vanilla experience. But, as you get closer to the blocks, the level of detail starts settling in. Whether it's the natural terrain features or the common building blocks, everything feels "depixelated".
In some areas, the resource pack completely changes how the block used to look. While in others, the changes are rather subtle and more resolution oriented. So, in the end, you get a welcoming non-pixelated Minecraft experience.
4. Andorhal HD
If you want to completely revamp your world while unlocking a realistic Minecraft experience then Andorhal HD is made for you. This Minecraft texture pack completely replaces the existing textures with highly detailed real-world alternatives. Plants feel richer, the terrain more welcoming and smaller items like torches get a fresh look. The only thing that remains unchanged is the Minecraft mobs.
5. Epic Adventures
As the name suggests, the Epic Adventures texture pack gives you a Minecraft world that is perfect for telling stories. It makes the game look like an RPG with wild, non-rigid nature; immersive blocks and very detailed mob faces and clothes.
You also get a bunch of UI changes including splash screens for various in-game processes. If it wasn't for the unchanged gameplay mechanics, you might not even recognize the game. Epic Adventures is easily one of the best Minecraft texture packs to use on roleplay Minecraft servers.
Minecraft Texture Packs for Best FPS
The following set of Minecraft texture packs features performance-oriented resources. They significantly increase your FPS and smoothen the overall gameplay.
6. Rodrigo's Resource Pack
Rodrigo's Resource Pack is one of the most popular FPS-friendly texture packs on our list. But instead of lowering the quality of textures, it creates a brand new theme for Minecraft that requires lower resources.
In some ways, it is similar to the style that appears in the official trailers of Minecraft. You get smooth blocks, simple-looking items, and minimal terrain features. Even the mobs look just like walking shapes until you look at their faces.
7. 2×2 Texture
Stripping away all of the core visuals of the game, this Minecraft texture pack leaves you with a bare-boned world. All solid blocks are simply square of solid colors meanwhile the items becomes a combination of simple shapes.
The texture pack takes serious steps to improve your performance. Because of that, even some gameplay mechanics get compromised. You might not even recognize a lot of blocks and entities in Minecraft. Though, all the mobs remain unaffected by the same.
8. Tiny Pixels
Giving a lego-like theme to Minecraft, Tiny Pixels breaks all the game's textures into smaller cubes. Whether it's the natural terrain features or structures, each element gets broken into smaller squares. Even items like torches get broken down similarly. What you end up with is a performance-friendly pixelated world that feels similar to retro video games.
9. Pollachius Resource Pack
Much like Tiny Pixels, Pollachius also breaks down the elements of your Minecraft world into smaller cubes. But it uses a unique themed approach while doing so. Entities like leaves, which are supposed to be translucent, become hollow cubes. Similarly, mobs and items appear as well-fitted geometric pieces.
10. Digs' Simple Resource Pack
This Minecraft texture pack is made while keeping exploration and mining in mind. In the case of complex items and creatures, the pack uses simple geometric shapes. Meanwhile, for blocks, it gets rid of the pixelated textures and adds small pixels on top of solid-colored cubes. Furthermore, thanks to the vibrant colors, the entire world looks like a board game.
Best Minecraft Bedrock Texture Packs
Most of the popular Minecraft texture packs usually cater to the Java edition. So, we have collected a few reliable options for the Bedrock players in a dedicated section.
11. Sapixcraft HD
Sapixcraft pushes the resolution of Minecraft textures to a new level compared to the realistic texture packs. However, instead of making the game look closer to the real world, it opts for a cartoonish look. The cartoon filter makes all the elements in the game look hand-drawn and 2d. Whether you look at the mobs or the structures, everything feels like something out of a children's book. This unique approach makes Minecraft feel fresh and welcoming.
12. Zedercraft
This Minecraft texture pack is extremely realistic as it uses real-world images to create the in-game textures. Elements like plants and tools look like cut-outs of their real-world counterparts. But the blocks display the images of the material they are supposed to be made of.
For example, the surface of stone blocks shows pictures of stones. This unique approach of bringing the real world to Minecraft is not only visually stunning but also quite surreal.
13. Faithful RTX Demo
While Minecraft Bedrock's RTX technology is more powerful in delivering a good-looking experience, the vanilla textures don't complement the same. They lack 3D mapping, material depth, and high resolution. Faithful texture pack steps in to save the day.
You get highly detailed and high-resolution surfaces along with a serious depth of field. The only drawback is that you have to pay to unlock all the textures in this pack. Its demo only gives you a taste of HD Minecraft.
14. VDX: Java/Legacy Desktop UI
This Minecraft texture pack doesn't change the appearance of your world, mobs, or items. Instead, it ports the user interface (UI) of Minecraft Java edition over to Minecraft Bedrock. Everything from your homepage to the UI of utility menus like the crafting table, inventory, and even the pause menu looks like the PC edition of Java Minecraft. An unsuspecting player can't even tell the difference.
15. Animated RGB GUI
The title of this Minecraft texture pack leaves no room for confusion. It does what it says. Leaving behind the boring and stationery user interface of vanilla Minecraft, you get upgraded to a dynamic RGB UI. It adds animated colors to all the in-game settings and menus. Even your HUD, main inventory and stamina bar get a colorful overhaul.
Cartoon Texture Packs
These texture packs give a cartoonish appearance to the mobs, biomes, and blocks of Minecraft.
16. ZigZag Resource Pack
If there was an award for being the cutest Minecraft texture pack then ZigZag will be a major contender. It has cute and clueless mobs; cheerful blocks and a bunch of happy-looking items. Even the hostile mobs don't feel that scary anymore. Then, as if such a dreamy world wasn't enough, there is also a happy soundtrack that takes over the entire world.
17. Diglett's Mine Pokemon Resource Pack
Bringing back the good old days, this Minecraft texture pack takes inspiration from the GameBoy version of Pokemon. Everything including the world, mobs, and even the UI gets a revamp to match the classic world of Pokemon.
Pillagers become Team Rocket, mobs become Pokemons, and even items take new forms. You even get to use Pokeballs in the form of mob spawn eggs. Though, if you are wondering about functionality, all the Pokemon features in the texture pack are only visual. But, you can easily meet Pokemon in Minecraft on the best Pixelmon servers whenever you want.
18. Mad Pixels
As the name hints, Mad Pixels is all about having fun in Minecraft and it crosses all limits to deliver on the same. For starters, you get goofy but cute-looking mobs who wander around a colorful but hand-drawn world. Then, when it comes to the items, you get cartoonish tools and lovable objects.
Furthermore, there are a bunch of minor details like Iron Golem being a robot, which takes the overall experience to a new high. Not to forget, even with a cartoonish look, Max Pixels uses high-resolution seamless textures which ensure a good-looking open world.
19. Sphax PureBDCraft
Sphax PureBDCraft turns Minecraft into a comic book and changes a bunch of its core elements to tell an entirely new story. The first time you load this Minecraft texture pack you will feel like you have stepped into a forgotten land. It features wild creatures, immersive terrain, and medieval-styled blocks.
Each element in this texture pack has its own story. Yet, every single texture fits quite well within the overall theme and gameplay. Moreover, even with high resolution, common textures like grass are not heavily detailed. This ensures a good-looking Minecraft world that doesn't face any lag on most systems.
20. SimonKraft Resource Pack
If you love Ghibli movies or Pixar animation then this Minecraft texture pack is perfect for you. It takes the best out of all the popular animated kids' movies to gift us an adorable and emotionally irresistible world.
All biomes feel much safer and more welcoming than vanilla Minecraft and all the mobs have a mysterious yet calm energy. There are very few texture packs that make you want to explore the world and SimonKraft is one of them.
Minecraft PvP and Bedwars Texture Packs
The best Minecraft texture packs in this section help you in combat by improving visibility, FPS, and overall experience. You can use them on the best Minecraft PvP servers for some additional support.
21. Verseus
There are a variety of ways in which Verseus supports you during combat but what stands out the most is its unique weapon design. All the weapon textures are much smoother and cleaner than vanilla ensuring easier usability and less confusion. Meanwhile, the armors get a fancy and bright appearance that doesn't only look cool but also makes the enemies much easier to spot.
22. Titan
The Titan Minecraft texture pack gives you a new set of fantasy weapons. These include large swords, modern axes, spectacular bows, and much more. In some ways, your tools and weapons don't feel like they belong in Minecraft's blocky world. But as soon as you start using them, their animation style pumps a whole new energy into the game's combat system.
23. Lethargy PvP
Most Minecraft battles, especially in Bedwars, comes down to who makes the first move. The Lethargy PvP texture pack ensures that it's always you. It adds smooth particles and lightweight textures which allow you to move fast without losing any FPS. Meanwhile, it also revamps the weapon design to make them easily spottable and reduces their size to improve overall viewability.
X-Ray Texture Packs
If you want a quick hack for finding rare ores, chests, and resources in Minecraft then the X-ray texture packs are there to help. Though, please keep in mind that using these on most Minecraft survival servers is a bannable offense. So, please practice precaution.
24. Xray Ultimate
The Xray Ultimate texture pack makes all the solid terrain blocks transparent to reveal ores and mineral blocks around you. So, all that's left for you to do is mine your way to these valuable blocks. If all of that isn't enough, you can use Optifine in Minecraft to reveal additionally hidden ores and unlock extra brightness.
25. Visible Ores Texture Pack
This Minecraft texture pack strikes the balance between overpowered X-ray capabilities and a sense of exploration. You get a better look at all the ore and minerals blocks without turning the other blocks invisible. It changes the textures so that all the vital blocks start emitting a strong glow. This ensures that you can easily spot them even in a dark cave which saves a ton of searching time while also keeping the exploration experience intact.
Explore All the Top Minecraft Texture Packs
Whether you want to revamp the way you play Minecraft or are just looking for better FPS these Minecraft texture packs are here to help. But before you start experimenting with them, make sure to install a few of the best Minecraft shaders. When used alongside the textures, these shaders can completely change how the game feels. Though, running both of these features at the same time can be a huddle for some systems. So, please practice caution. Having said that, do you have any other amazing Minecraft texture pack that we should cover? Share it on our Discord server!